The 11+ software packages, Mathematics for 11+ and English for 11+, allow students to practise sets of questions based on topics that are covered in the Trinidad and Tobago Secondary School Entrance Assessment (SEA) Examination. There are two versions of the software, a school edition which is installed in primary schools, and a home edition for personal use which is available exclusively from all Nigel R. Khan Bookseller locations.
The primary objective of the 11+ programs is to help prepare children for the 11+ examination by working sample questions and sample exams. Through lots of practice, the child becomes familiar with the material which will help their confidence and speed during the examination. The program is meant to be a testing tool and not a teaching tool. The child is expected to have been taught the material in school and utilizes the program to practise questions and identify weak areas.
How Does It Work?
Students work a practice set of ten questions on a specific topic in the relevant subject (Mathematics or English).

The computer corrects the questions and provides an assessment along with some recommendations.

The student can go back and review their results along with the worked solutions for every question.

The program monitors the studentís results and adapts to the childís ability by selecting questions at the appropriate level of difficulty.

Parents and students can view progress charts which indicate the scores received and the time taken to complete the questions.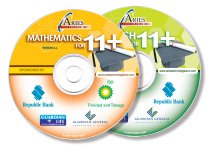 What are the Main Features?
Some of the key features of the program are
Exhaustive Database - Thousands of questions are stored on the CD and additional questions are available for download.

Adaptive Learning Technology - The questions are divided into various topics. Each topic contains questions at three levels of complexity. The program tracks your child's success rate in all the topics and selects questions to match their ability. As the child gets better at a particular topic, the program selects more complex questions.

Progress Reports - the program provides immediate, visual feedback for the child, parents, teachers and interested persons in the form of progress charts. The charts display the success rate and the time taken to complete questions for each topic.

Hints and Solutions - On request, the program provides hints on how to answer a question. There are worked solutions to each question so the child may compare their answers to the worked solution to determine where they made any mistakes.

Electronic Scratch Pad - Students can perform their working of the questions on the computer using the electronic scratch pad. There is no longer the need to have additional scratch paper on hand.